Bonjour,
Bonjour! Les inscriptions sont ouvertes pour le prochain atelier intensif de L'Acteur en Action! débutant le 11 Juin 2018 à Montréal. Cliquez sur l'onglet "Acteur en Action!" pour y voir le dépliant et tous les détails pratico-pratiques!
Infos : 514-525-7529
—–000—–
Hi! The next intensive workshop of the "Actor in Action!" is available upon request. Click on the "Actor in Action!" tab in order to see the brochure and all technical details!
Infos: 514-525-7529
COACHING : DES RÉSULTATS ! =D Début 5 Septembre.
Info : 514-525-7529

Atelier Semi-privé du mois d'Août 2017 :
« Tous les comédiens devraient en apprendre plus sur la technique de David Mamet ! Cette approche a été une révélation pour moi. Gina est très bien outillée pour enseigner cette technique. En quelques heures de « coaching » j'en ai appris plus qu'en 3 années d'études en théâtre. =) »
Dominique Lerhe
« Cette technique vaut la peine d'être connue. C'est un outil très utile pour un acteur. Une technique très peu connue qui gagne à l'être, qui nous fait voir le texte autrement, qui nous aide à aller voir plus loin que le sens des mots »
Florence Drouhin-Dubreuil
Prochain Atelier Intensif: 18 Septembre 2017.
Info: 514-525-7529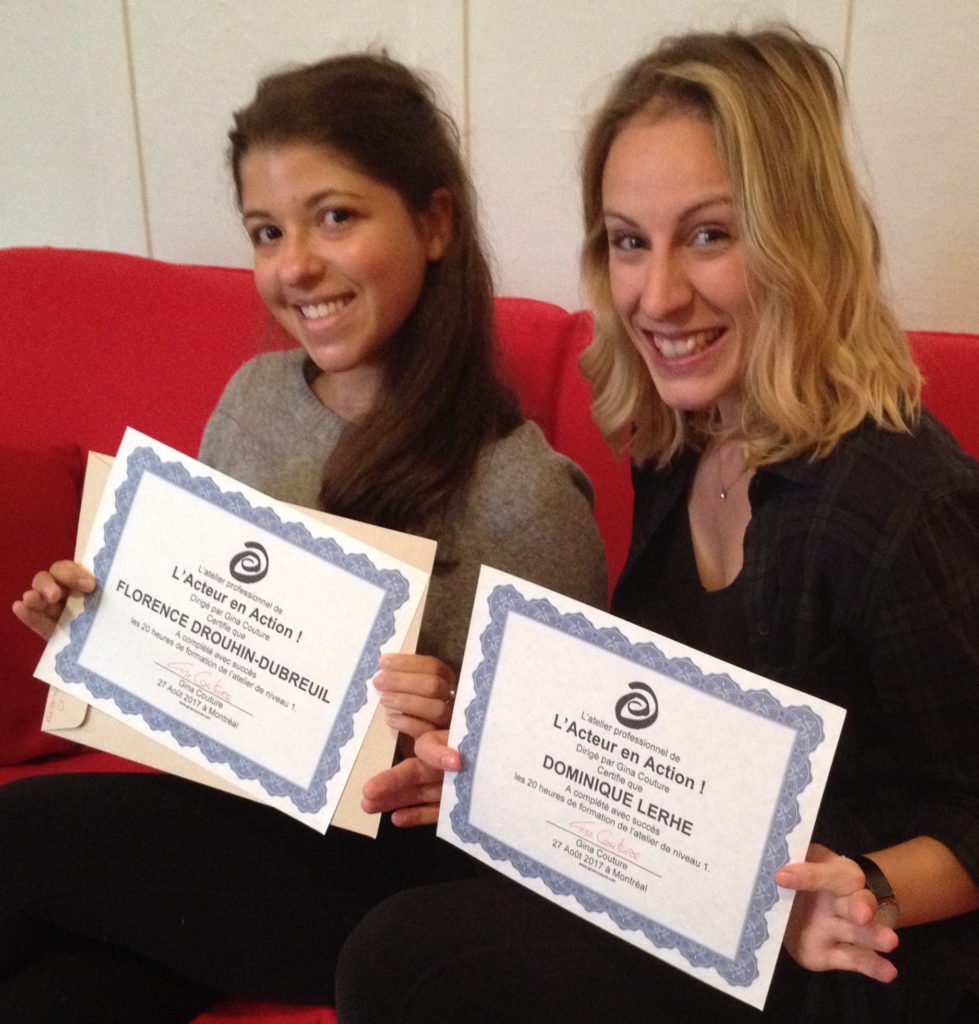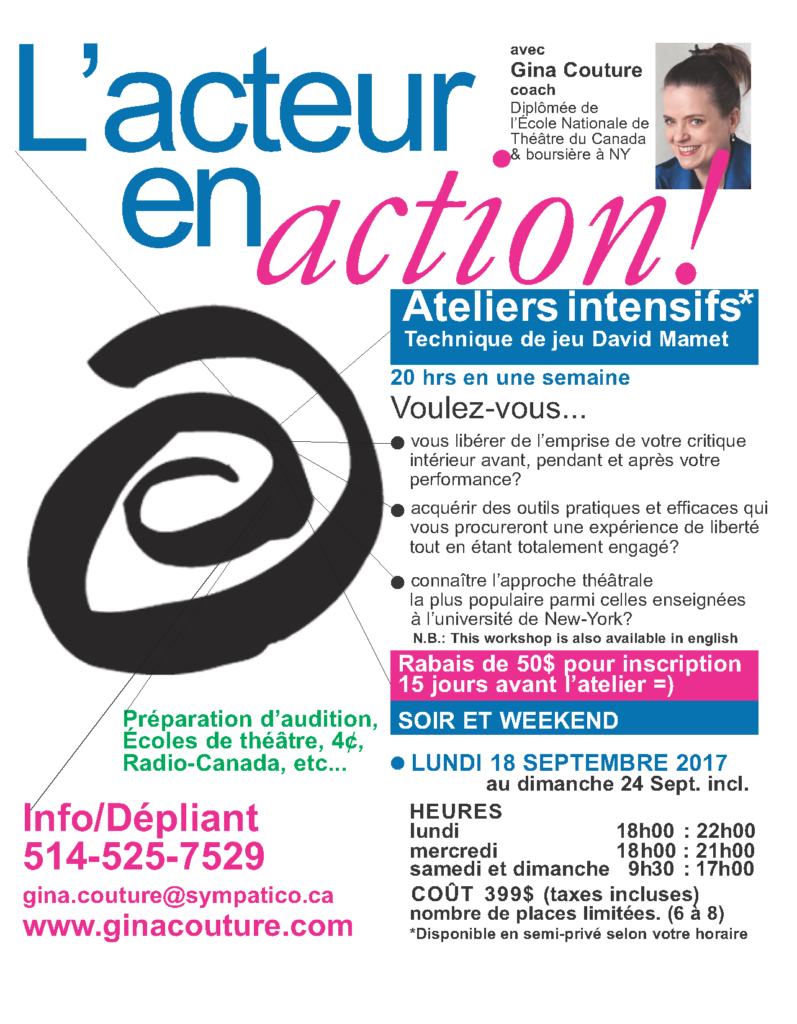 Bonjour!
Il ne me reste plus que quelques places pour la préparation d'audition 2016-2017!
N'hésitez pas à me contacter pour plus d'infos!
Je me ferai une joie
de vous parler de vive voix!


Le coaching débutera la semaine du 7 septembre 2016.
Vous pouvez réservez votre place en me contactant au 514-525-7529
ou sur ma page FB: https://www.facebook.com/ginacouture
Au plaisir! =)
Pour ceux qui ont manqué le reportage de Véronique Lauzon de La Presse,
Vous pourrez m'y voir ICI avec mon élève Charles Voyer,
Accepté au Conservatoire d'Art Dramatique de Montréal,
accompagné de sa super réplique Koralie d'Ab!
Bonne écoute! =)

Yéééé!
Félicitation à Charles Voyer
pour son admission au Conservatoire d'Art Dramatique de Montréal!
Un grand bravo aussi à sa super réplique, Koralie D'Ab!
La coach est bien contente! =)