Bonjour,
Bonjour! Les inscriptions sont ouvertes pour le prochain atelier intensif de L'Acteur en Action! débutant le 20 Janvier 2014 à Montréal. Cliquez sur l'onglet "Acteur en Action!" pour y voir le dépliant et tous les détails pratico-pratiques!
Infos : 514-525-7529
—–000—–
Hi! The next intensive workshop of the "Actor in Action!" is available upon request. Click on the "Actor in Action!" tab in order to see the brochure and all technical details!
Infos: 514-525-7529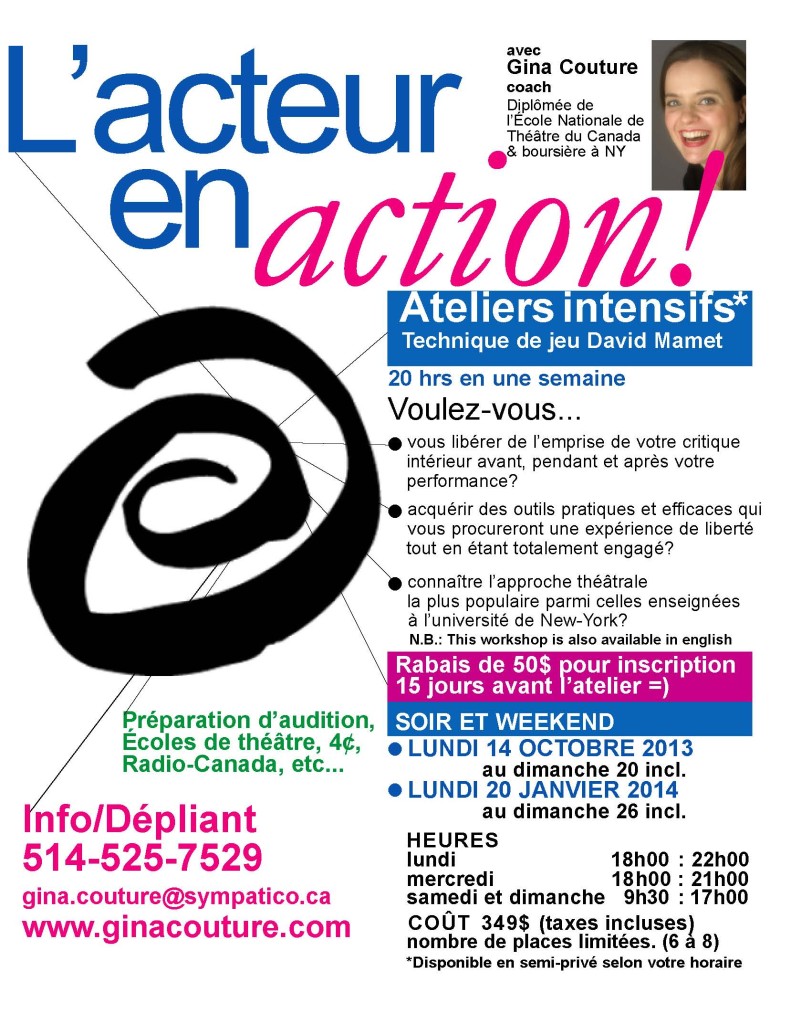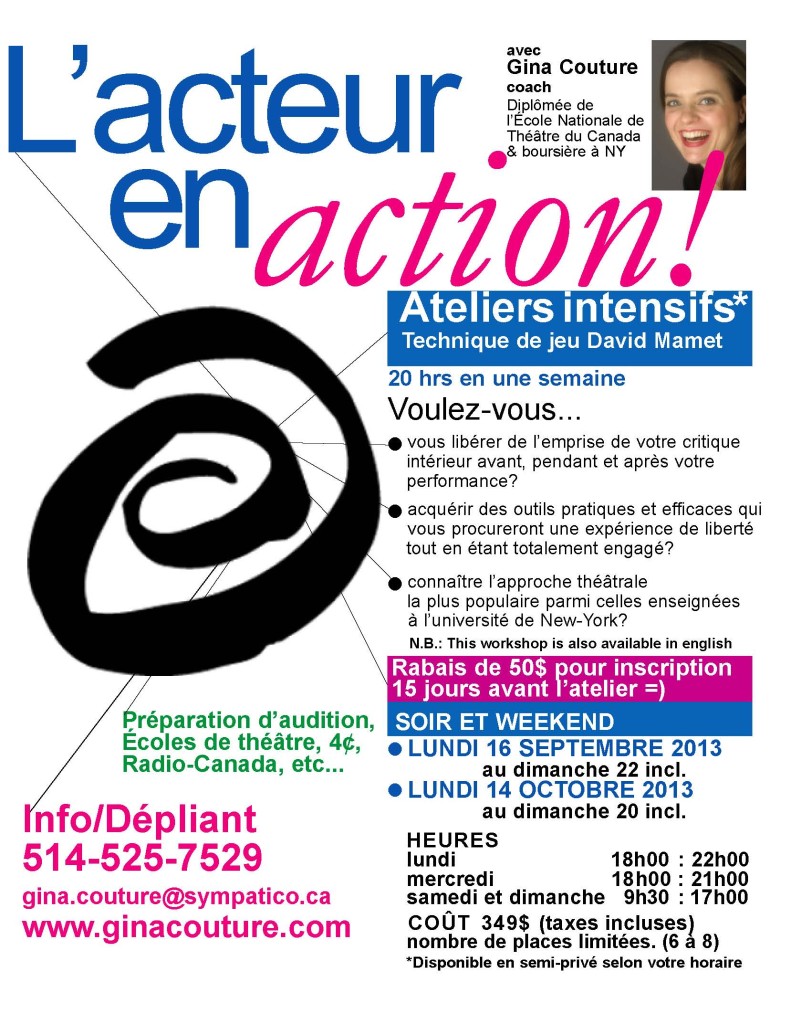 Ouiiiii!!! Il me reste encore quelques places!
Contactez-moi! Au plaisir! =)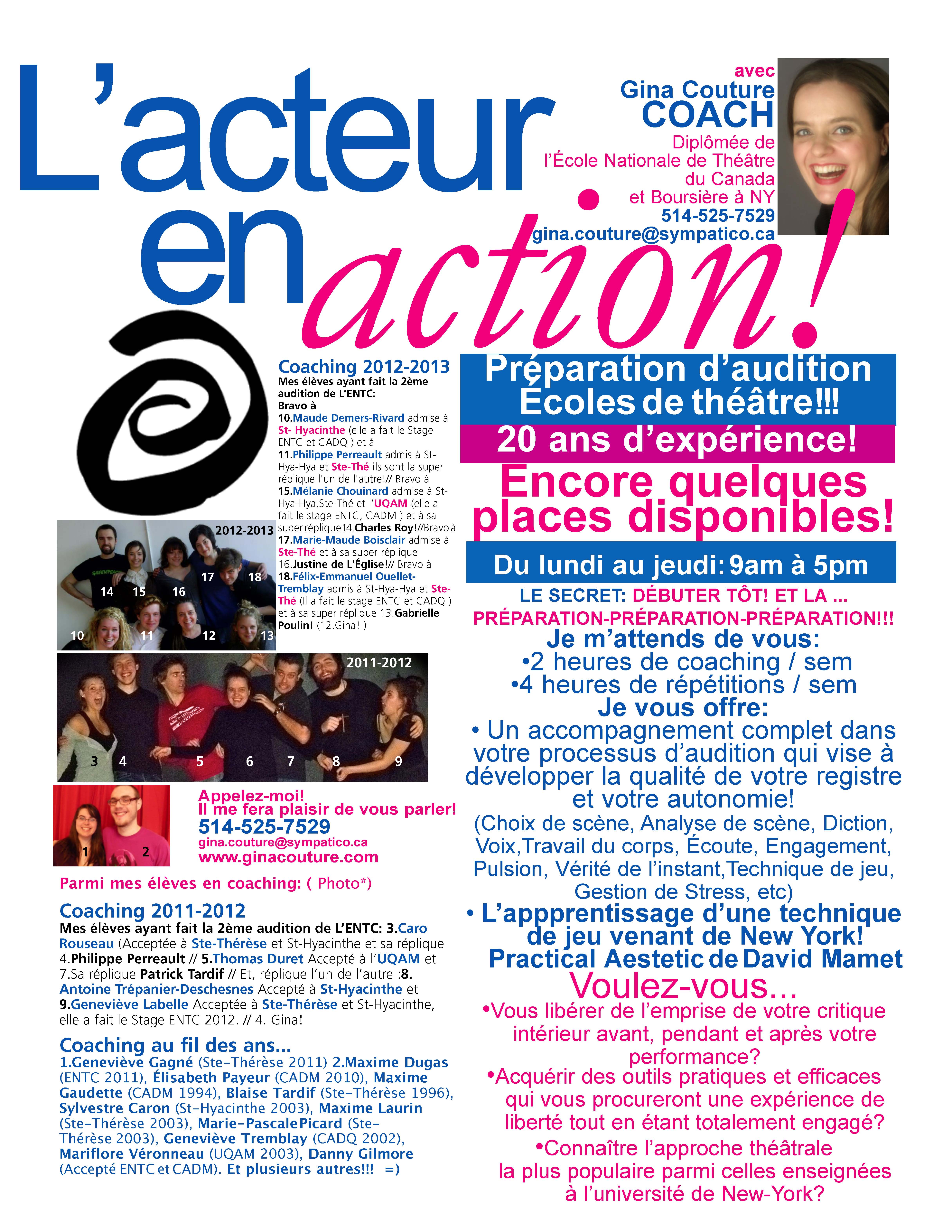 Pour vous y initier ou pour les gradués de l'Acteur en Action! Venez faire
l'expérience d'un jeu d'observation très dynamique à la source de la
technique de jeu de David Mamet qui permet à l'acteur d'être dans la
vérité de l'instant et ainsi de se libérer de son critique intérieur. Animée
par Gina Couture, formée à Mtl et à NY. À 13h en français. Pour 16 ans et
plus. Premier arrivé, premier servi! Toute l'info ici et un extrait vidéo du jeu de la répétition ici!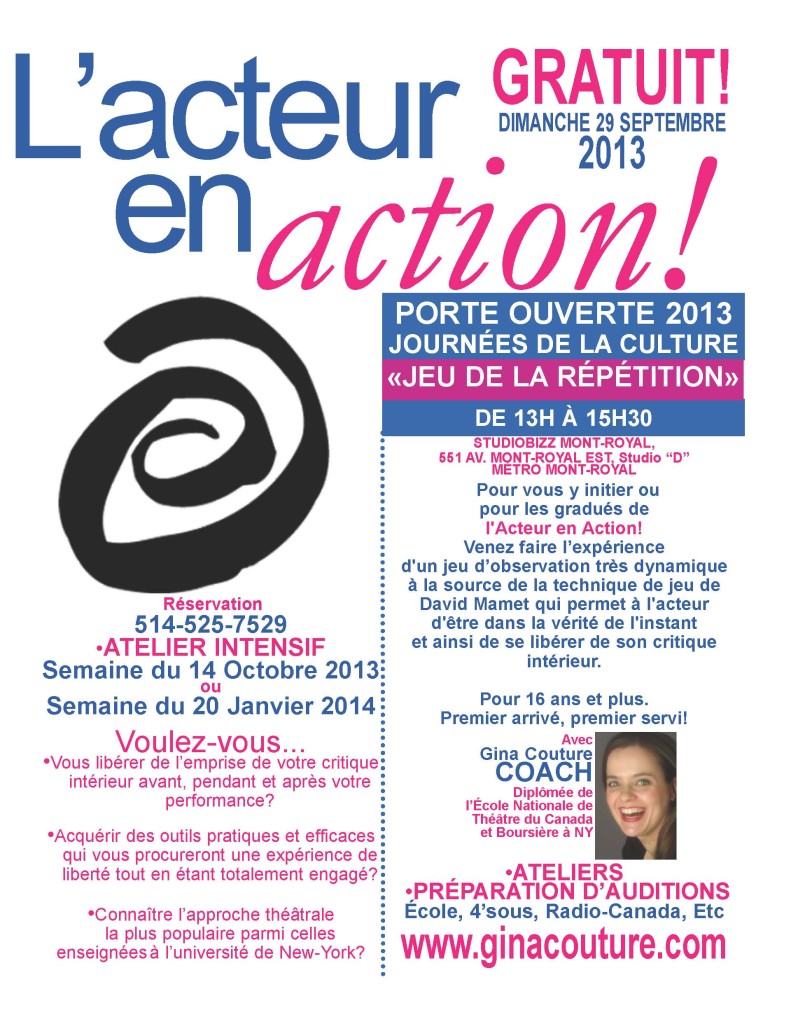 Quelle belle journée de la culture 2012! Tout le monde debout! Voici une bonne vingtaine de personnes courageuses prêtes à faire leur premier jeu de la répétition! Bravo à tous et un grand merci à Michel Pilon et Marie-Pascale Picard pour leur soutient dans la réalisation de cet évènement! À l'an prochain! =D

Ô! Que la saison s'annonce belle avec cette belle jeunesse talentueuse et passionnée!!! yÉÉÉÉÉ!!! Qui d'autre se lancera dans cette aventure avec moi? =D
Ô! La belle jeunesse pleine de talent! Quel privilège que de vous préparer aux grandes auditions cette année! Je nous souhaite à tous, le plus beau des voyages! À Philippe Perreault, Caro Rousseau, Antoine Trépanier Deschênes ,Mathieu Gagnon-Lauzon, Maude Demers-Rivard, Geneviève Labelle, Audré Vini et Maxime Larcher : Un gros MEEEEEEEEERDDDRRRRREEEEE !!!! =D xx
Bonjour!
Obtenez un rabais de 50$ si vous vous inscrivez avant le 13 septembre à midi! =)